Skylanders Swap Force is the third installment in the Skylanders Series. It allows characters to switch tops and bottoms of Skylanders with others, allowing new abilities. The game's main antagonist, Kaos, wants to fill the Cloudbreak Islands with evil. It is the sequel to Skylanders: Giants.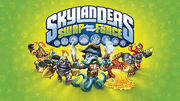 Swap Force Characters
Edit
(Note: The following characters can be swapped to have new abilities. Switch the top and bottom names around to make new Swap Force combos, such as Wash Drilla.)
Spy Rise
Magna Charge
Night Shift
Rattle Shake
Free Ranger
Boom Jet
Grilla Drilla
Stink Bomb
Normal Characters
Edit
Dune Bug
Star Strike
Countdown
Wind Up
Smolderdash
Fryno
Rip Tide
Punk Shock
Scratch
Pop Thorn
Slobber Tooth
Scorp
Zoo Lou
Bumble Blast
Grim Creeper
Roller Brawl
Ad blocker interference detected!
Wikia is a free-to-use site that makes money from advertising. We have a modified experience for viewers using ad blockers

Wikia is not accessible if you've made further modifications. Remove the custom ad blocker rule(s) and the page will load as expected.