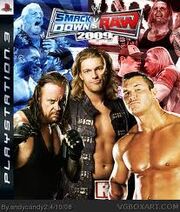 The WWE Games are video games released every year. These are the official video games for World Wrestling Entertainment and are made by THQ.
List of Yearly WWE games
Edit
Smackdown VS Raw 2007
Smackdown VS Raw 2008
Smackdown VS Raw 2009
Smackdown VS Raw 2010
Smackdown VS Raw 2011
WWE '12 (shortened to W12)
WWE '13 (shortened to W13)
2K14
Ad blocker interference detected!
Wikia is a free-to-use site that makes money from advertising. We have a modified experience for viewers using ad blockers

Wikia is not accessible if you've made further modifications. Remove the custom ad blocker rule(s) and the page will load as expected.